New Students
To ensure that you are well-prepared for the program, please review the information below and be sure to complete any action items listed.
New Student Checklist
The New Student Checklist is a comprehensive list of everything you as a new student will need to complete to be ready for your first week of classes! The list is also available as a PDF so that you can download or print it to keep track of your tasks.
New Student Checklist
Log into SMU email
Attend Program Overview
Log into 2DS

Login instructions will be sent from your Student Support Advisor
Complete Orientation Course

Post introduction on course wall

Complete Bridge to Statistics course
Create a SAS On-Demand account and review the SAS OnDemand Guide
Complete Programming Bridge course
Download the 2DS Mobile App

Register for classes

Clear holds on student account prior to registration

Secure financing for program

If using financial aid:

Complete FAFSA
Contact financial aid advisor

Review Employer Reimbursement Policy (if applicable)
Contact Bursar's Office to discuss payment options

Accept financial aid award in my.SMU (if applicable)

First sign Master Promissory Note
Complete Loan Entrance Counseling

Schedule Student Success Planning call with Student Support Advisor
Pay tuition bill by due date to avoid late fees
Complete Unit 1 coursework for ALL registered courses
Program Overview
During the Program Overview, your Student Support team will cover program and technical expectations, including the academic calendar, course sequence and registration, and provide a brief technical overview of the live classroom. This mandatory training will be held in the live classroom to give you a feel for how classes will be each week.
To schedule your Program Overview, please reach out to your Student Support Advisor or check your email for a link to sign up.
Student Accounts
my.SMU
my.SMU is your main university account and is used for all administrative needs in the program, including:
Class registration
Clearing holds
Transcript requests
Financial aid information
Paying your bill
This is the same account used to pay your deposit for the program, so you should already have it set up. If you have not set up your my.SMU account, go to the my.SMU website and activate your account. You will need to reference your student information that you received via email from SMU upon admittance into the program.
You can log into your my.SMU account using your Student ID.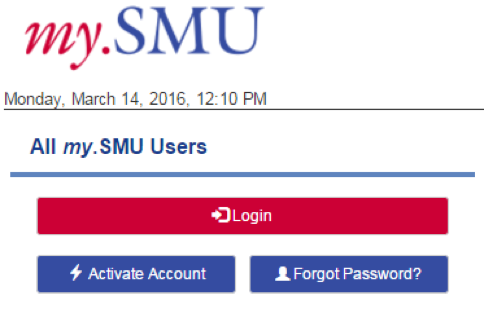 SMU Webmail – Email Account
Throughout your time in the program, Student Support will be sending a lot of important correspondence through email. Once you have set up your SMU email account, it will become the primary account for all email communication from SMU and Student Support, including registration information.
Log into your SMU email account.
Visit the Email and Calendaring page on SMU's website for instructions on how to access your email account. If needed, instructions on how to forward your SMU email to another account can be found on the Microsoft Office Support page. Lastly, instructions on how to sync your email account to your mobile device can be found by visiting the Email Configuration page on SMU's website.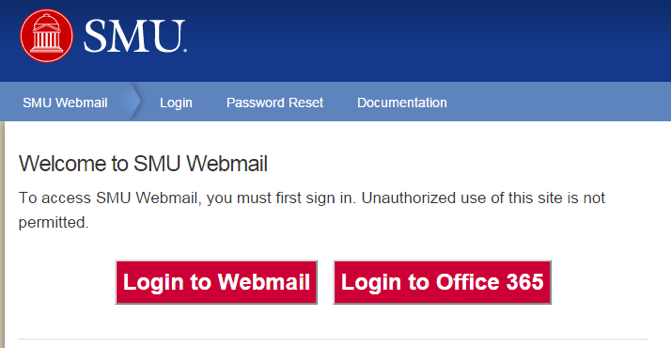 2DS
Your 2DS account is your main account for live sessions, course materials and academic resources throughout the program. After enrolling in the program, you will receive an email in your SMU email account with details on how to access your 2DS account. Please note that your 2DS credentials are different than other SMU accounts – you will use your SMU email address as your username but will be required to set up a new password.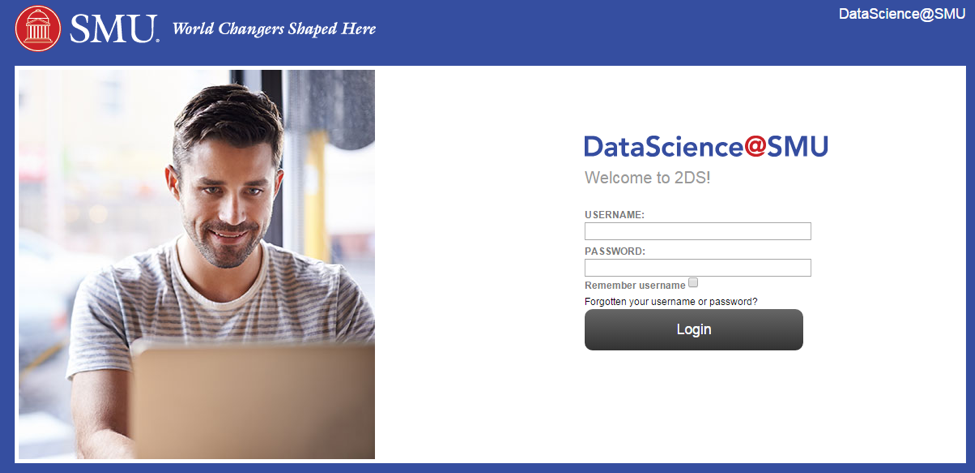 Once you are logged in, you will have immediate access to the following resources:
Student Orientation Course

A 3–4 hour self-paced course, this is a brief introduction to DataScience@SMU and the program structure. It offers step-by-step instructions on joining your live class sessions, as well as important dates and policies. You are required to complete this course before you begin your regular coursework.

Bridge to Statistics Course

This self-paced bridge course with statistics resources prepares you for the statistics courses in the program. While this is not a required course, it is highly recommended by other students as a key part of their success. Prior to starting the Bridge to Statistics course, be sure to create your SAS OnDemand profile and login credentials. Please see below for more information on accessing SAS OnDemand.

Programming Bridge Course

While not required for students to complete, this self-paced bridge course is highly recommended, as it provides additional programming resources for RStudio, Python and SAS. Many of these skills are required for Doing Data Science coursework.
After registering for courses, you will see your registered coursework appear two weeks prior to the start of the term. Be sure to log in and view your coursework as soon as it is available, as all Week 1 content and assignments must be completed prior to your first live class session.
Additional Resources
In addition to the bridge and orientation courses in 2DS, DataScience@SMU students have access to a number of valuable resources. For more information about university, programming, time-management resources, please visit our Student Resources page.
SAS and R Download Process
SAS: You will create a SAS OnDemand account where you will be able to access SAS throughout the program. Once enrolled in classes, your instructor will provide access to the direct link to access all relevant course materials in SAS. For more information on SAS OnDemand, please view this User's Guide.
R: To download RStudio, follow the information listed on the Rstudio website. For other RStudio packages such as ggplot, knitr and rmarkdown, visit the RStudio Products
Lynda.com
As a student with SMU you have free access to Lynda.com. This site offers thousands of video courses and tutorials on various different topics that you may find helpful during your time in the Data Science program. To log into lynda.com:
Go to lynda.com and select "Sign In" in the upper right corner
Select "Sign in with your organization portal" that is below the "Continue" button.
Enter "smu.edu" in the next box and hit "Continue".
From there you should be able to sign in with your SMU credentials.