Finding Meaning In Data: How Dallas/Fort Worth Airport is Optimizing Business Outcomes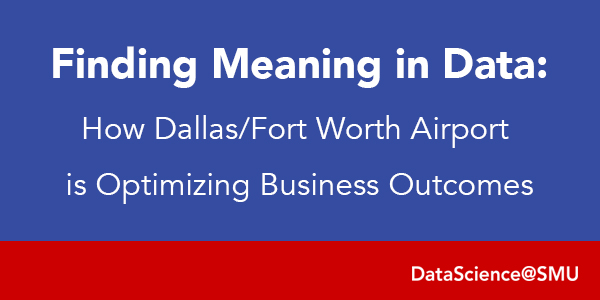 Around the world, the airline industry is continually seeking new methods to improve operations and enhance the customer experience. And increasingly, it's using big data and data analytics to do it. For Immersion 2016, DataScience@SMU invited Steve Shaffer, CIO of Dallas/Fort Worth International Airport (DFW), to share his thoughts on ways to find meaning in data in relation to the airline industry. Here, we'll highlight the opportunities and advantages for big data and analytics in airport optimization that Shaffer sees — as well as how other players in the industry are aligning with such efforts.
Finding Meaning in Data
During his keynote presentation, "Finding Meaning in Data," Shaffer discussed his team's plans for using data to derive key insights for enhancing the customer experience at DFW — which is experiencing rapid growth as a global hub and is the No. 1 economic engine in the region. In describing DFW's new strategic plan, Shaffer talked about how DFW is going to "transform travel" through four key initiatives:
Manage operational excellence — to transform the travel experience and make it something that customers look forward to. Shaffer said he wants travelers to actually enjoy spending time at the airport, instead of viewing it as just another travel-related task.
Improve the relationship with everyone working at the airport — no matter who their employers may be. Shaffer said he wants to crowdsource customer experience, which means that the 67,000 people who work at DFW airport need to be empowered like the 1,800 who work for him.
Sell more DFW products — which is a key business priority for Shaffer to add value and support the airport's bottom line. Achieving the other three priorities will be essential to optimizing DFW product sales.
Individually choreograph each customer's airport experience — so that no two are the same. Shaffer said that although that means creating a lot of individualization, the goal is to do it "64 million times a year" to meet each customer's needs.
Shaffer admitted that all of this equates to a pretty audacious goal. He said the only way to achieve it is by turning data into insights and actions from the potential data feeds that already exist, including:
Passenger location tracking.
Point of sales (POS) transactions from airport concessionaires.
License plate tracking in the parking system.
Customer preferences and customer sentiment via social media or DFW's mobile app.
Customers' social logins — including sites like Facebook, Twitter and Instagram.
Flight tracking.
Passenger reservations and tickets.
Bathroom operations — cleanliness is the biggest driver of customer satisfaction.
By compiling and analyzing all of this data, Shaffer says DFW can create individualized customer experiences. For example:
You arrive on the DFW campus. You pull up to those parking lots. And I know that. I can see you now from my location reports. I know what flight you're on. Either you told me through your customer preferences or maybe you've linked apps together — you linked the DFW Airport app with your American Airlines app, or you used TripIt or GetThere and you can link to those apps. So, I know what time you're leaving, and because I've got flight tracking, I know your flight's on time but what I also know is that you're running late. I can see you're at the tollbooth and know you needed to be here earlier. So, here's my offer. Today, because you're running late, why don't you pull up to the valet parking stand and we'll call you a valet today. That will shave 11 minutes off your time and get you back on track. Additionally, don't go through the D22 checkpoint because they're really busy right now. Why don't you move down to the D30 checkpoint and that'll save you another five minutes? See, that's an individual experience.
From a business perspective, Shaffer says that data insights can also have a significant impact — and analyzing gate data and POS data together is a good example:
You start to see that when certain flights park at certain gates, sales activities are different. If you dig deeper into that, what you find out is that when flights from the Asia path park in either Gate 13, 14, 15 or 16, revenue at the Michael Kors store triples. So you take that information, and instead of it being a happy accident, you make sure that now you proceduralize that the Asia path flights are always going to park at gates 13 through 16. And if you do that enough times, then that is significant impact for your business.
In order to make the most of the data at their fingertips, Shaffer says they have a lot of work to do — which is why data analysts are needed.
All those data sets. We have access to [them] but we don't digest them. We have ideas about where we think patterns will emerge but we haven't tested them yet or designed them yet. And we need to do that because that's the only way that I'm going to be able to then turn around and be able to tell you, 'Hey, you're running late for your flight,' or 'I see that you like sitting down at nice restaurants and you've got an hour. Why don't you head over to the Reata Grill and have a lunch there — $5 off on me.' So, [we have] big, big mountains to climb.
Industry Trends
Shaffer and his team aren't the only ones in the airline industry who are turning to big data to optimize results. Around the world, both airports — such as Dubai airport in the United Arab Emirates (UAE) — and airlines — such as Lufthansa — are counting on big data to improve operations and gain a competitive edge. As Lufthansa's CIO, Roland Schutz, notes in an interview with The Wall Street Journal, "Digital transformation is on the top of our agenda and reshapes every aspect of our business. It is no longer just about getting from A to B by plane. We need to focus on the entire customer journey — the travel experience from reservation to arrival. As part of the digital transformation, the Internet of Things (IoT) is a key enabler and will drastically improve passenger experience in the next few years."
Schutz' predictions regarding the IoT align with the SITA 2015 Airline IT Trends Survey, which found that 86 percent of airlines "expect that the IoT will deliver clear benefits in the next three years," and 37 percent had already budgeted for it. In addition, the survey revealed the value that airlines see in using business intelligence (BI) derived from data analytics: "Already 94% of airlines are investing in BI with 74% planning major investment programs by 2018. While 68% have a major investment program planned for data centres in the next three years, with a further 14% investing in R&D or a pilot program."
Such results are consistent with IBM's Global CEO Study, in which travel and transportation CEOs rank "information explosion" as a major reason to make a shift toward optimizing data use. In an article for Forbes, Shannon Adelman, marketing manager for IBM's Travel and Transportation Industry, cites three ways the travel and transportation industry can make the most of big data and analytics:
Customer analytics and loyalty marketing — which can help companies differentiate themselves for a competitive edge.
Capacity and pricing optimization — as evidenced by "more dynamic and smarter pricing actions, optimized capacity planning and effective yield management."
Predictive maintenance analytics — to help organizations "manage and maintain their assets to improve safety, performance and equipment life."
While all of these opportunities and advantages for using big data and analytics are available in the transportation industry, Adelman says implementation is not where it could be. Citing the IBM Center for Applied Insights study, "Inside the Mind of Generation D," she says "the travel and transportation industry as a whole generally lags in terms of how data is used. For example, travel and transportation companies are surprisingly behind in predictive modeling, simulations and next-best-action decision making, three areas necessary to run operations efficiently and target customers effectively."
While the shortage of analytics expertise may be a hurdle that the transportation industry needs to overcome, it's good news for those looking to enter the data science field. As Steve Shaffer said, "There's a lot of opportunity out there. There's opportunity even in my airport, by the way."
Last updated November 2016