What a Difference Four Days Can Make: SMU Immersion 2016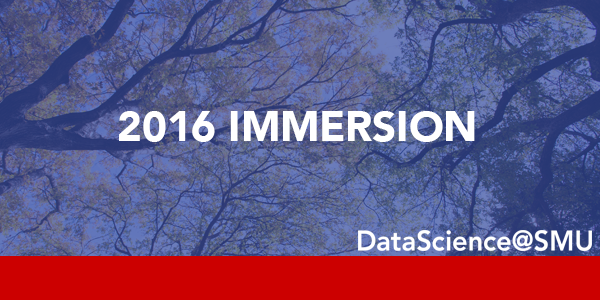 Many students want the opportunity to interact with peers, faculty and industry leaders in person – and relax in a beautiful campus environment. That's why DataScience@SMU offers SMU Immersion, a unique component of our curriculum that helps students improve their skills and knowledge – and become better job candidates in the process. This year's event took place July 21–24 and made a big impact on those who attended. Here, we'll take a closer look at Immersion 2016 and what a difference four days can make.
What is SMU Immersion?
SMU Immersion is a four-day experience that gives students the opportunity to travel to SMU's campuses in Texas (Dallas and Plano) to meet their fellow classmates, participate in engaging discussions with their professors and elite industry leaders, and apply what they've learned to real-life problems. The on-campus immersion makes SMU's online program unique because it allows students to interact with classmates in person versus solely taking courses with them online, network with prominent employers, and directly apply new skills and knowledge to solve problems affecting the business world today. Most individuals pursuing graduate degrees are doing so because they want to enhance their skillsets and improve their chances of landing that dream job – and many of the immersion activities are geared toward meeting these needs.
What types of events are included?
Each SMU Immersion experience offers an exciting array of events, and this year was no exception. The four-day schedule included talks from some of the top names in the industry, the ability to interact with experts, the chance to participate in hands-on data projects with fellow students and the opportunity to better understand what employers are looking for in data science graduates.
Specifically, this year's events included:
Keynote presentations from Steve Shaffer, chief information officer, Dallas-Fort Worth Airport (DFW): "Finding Meaning in Data" and from Keith Baggerly, professor, The University of Texas MD Anderson Cancer Center: "When Is Reproducibility an Ethical Issue? Genomics, Personalized Medicine, and Human Error"
Skills workshops: "The Power of Data Visualizations" led by Randy Krum, founder and president of InfoNewt, and "IBM Watson" led by DataScience@SMU student and senior solutions architect of IBM Watson Group Raghuram Srinivas
Mock 1-on-1 interview sessions with recruiters from JBCconnect in which students were given the opportunity to prepare for job interviews through soft skill coaching and development
Industry panel: Individuals from prominent companies in Texas discussed the importance of data science and what they look for when hiring data science professionals during the "Data Is Bigger in Texas: Data Science at Large Companies" panel. Panelists included Evie McGerr, director of Advanced Analytics & Big Data, AT&T; Otis Jennings, principal – Advanced Analytics, AT&T; Ralph Brooks, data scientist, Toyota; Robert Cezeaux, senior director, Data Science, Capital One; and Damian Fernandez, senior director, Global Marketing Analytics, Fossil.
Presentation of the Above and Beyond Project: "Big Data Assessment of Cryptographic Randomness" by DataScience@SMU students Chad Maybin, managing director, Progredi, Inc.; Andrew Pollock, e-commerce analyst, Getty Images; and Elliott Whitling, systems analyst and developer, Inteject Data Systems
Mini-Hackathon with a challenge to solve a problem, create a data product or conduct analysis on any topic of their choosing related to the Dallas area
Student poster presentations that gave students the opportunity to present projects they had been working on that term
Campus tour and scavenger hunt during which students were given a list of notable locations to photograph around SMU's Dallas campus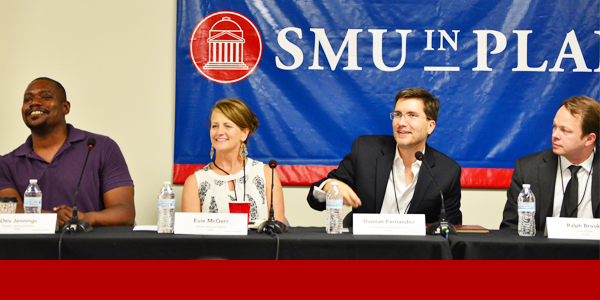 In addition to all of these activities, students had plenty of time to indulge in delicious food and drink while spending time with fellow classmates, faculty and industry leaders.
What was the impact of Immersion 2016?
Immersion 2016 provided a valuable impact for the students who attended since each was able to benefit from the variety of experiences to meet their individual needs. For James Taber, May 2015 cohort, the ability to hone interview skills was key:
My most memorable experience at immersion this year was the mock interview I participated in. I learned many valuable skills that I can now apply throughout my job-interviewing process. This kind of interaction with industry recruiters was truly valuable. In the future, I hope to be able to return to the immersion as an interviewer instead of an interviewee.
In addition to the mock interviews and hearing from industry experts through keynote and panel presentations, students were able to make the most of the workshops to directly apply code and knowledge learned both throughout the semester and during the immersion experience. They were eager to work together and learn from others by sharing different approaches to problem solving and gaining a better idea of their classmates' strengths.
Bottom line: The students who attended Immersion 2016 learned a great deal, made some valuable new connections and had a lot of fun while they were at it!
Is data science for you?
Employment researchers say that being a data scientist is the best job this year. With the rapid escalation of data amassing across a variety of industries, organizations are eager to find the experts they need to dig into that data and make the most of it. If you would like to learn more about a career in data science, contact SMU's online Master of Science in Data Science to find out more.
Learn to more about DataScience@SMU.
Last updated August 2016