Alternatives to Silicon Valley Surprise Data Scientists
When people think of data science they correctly associate it with big data and usually think of Silicon Valley. But the alternatives to "The Valley" are surprising, and trends in this field (like many others) are skewing to disruption. Smart students and motivated professionals of all ages are finding that earning a master's degree in data science allows them to transition into a new field, or grow in their current one, in many different parts of the United States.
In fact, a person with a Master of Science in Data Science can work in almost any corporate or government setting in a wide range of industries and in a variety of places that might be considered atypical.
Professionals with data science degrees can launch their own consulting businesses or take their degrees outside of normal channels altogether. The executive recruiting firm Burtch Works reports disruptive trends in the ranks of data scientists. As an example, some master's degree holders in this discipline are shying away from FANG (Facebook, Amazon, Netflix and Google) and are moving toward other areas such as cancer research or energy conservation.
Meanwhile, the push to stay one step ahead in the business world is forcing corporate HR teams to seek candidates with diverse backgrounds to ensure they are getting the most out of big data.
Where's the Best Place to Live?
It depends on what you want. The demand for data scientists is high almost anywhere and in almost any industry. The data below can help determine which city is best for you.
U.S. Tech Hub Cities
Austin
Boston
Denver
New York
Raleigh-Durham
San Francisco
Seattle
Washington, D.C.
The best place to live depends on who you are and what you're looking for. Here are some highlights from our findings:
If you want to find a corporate job:
Highest number of companies: New York
Lowest number of companies: Raleigh-Durham
Highest number of job postings: Raleigh-Durham
Lowest number of job postings: New York
If you'd like to start your own company:
Highest office rental $/ft2: New York
Lowest office rental $/ft2: Seattle
Highest in available office space: New York
Lowest in available office space: Raleigh-Durham
If you have a family:
Highest cost of living: San Francisco
Lowest cost of living: Raleigh-Durham
Highest job growth rate: San Francisco
Lowest job growth rate: Washington, D.C.
If income is a priority:
Highest per capita income: San Francisco
Lowest per capita income: Raleigh-Durham
Now that today's data scientists know they have more geographical choices, they will apply their analyses to the infographic, knowing full well that these data are just a starting point. Competing goals clash: High incomes are offset by high costs of living; a city rich in office space may also have the highest cost per square foot.
Professionals with a master's degree in data science can work in almost any industry — imagination being the only limiting factor — and those industries exist in U.S. cities that are not considered traditional tech hubs. Today's data scientists, with their wonderfully diverse undergraduate degrees and work experience, will forge new paths and help decision-makers within, and outside of, the strict confines of corporate America.
The infographic operates as data science does: by synthesizing big data and then allowing others to make decisions from it — both big and small.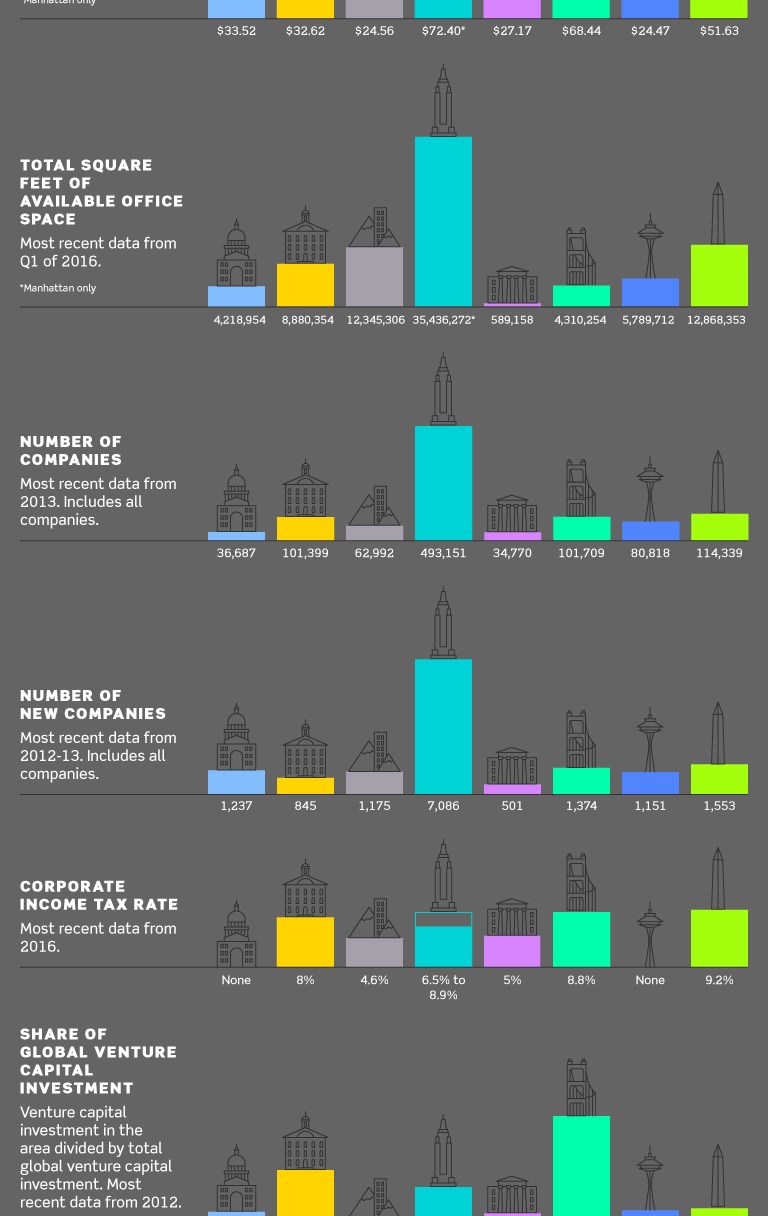 SHARE ON: FACEBOOK | TWITTER | LINKEDIN
Last updated October 2016