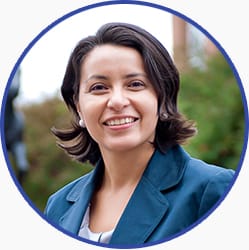 Cynthia Alvarado
Location: Dallas/Fort Worth, Texas
Occupation: Data analyst at Santander Consumer USA
Education: B.S. in mathematics and statistics from The University of Texas at Dallas
Tell us a bit about yourself.
I have been working as a data analyst for an auto financing firm in Dallas/Fort Worth where we use SAS and SQL for reporting. I have been at the company for a little over two and a half years.
What initially attracted you to the data science field?
I often ran into articles about insights businesses were discovering about their customers by analyzing data trends. Those trends became machine learning algorithms that helped companies make better decisions to optimize their operations. These articles opened my eyes to what we can uncover from rummaging through data.
Why did you decide to pursue a Master of Science in Data Science?
Using data science to an extent in my position, I became curious as to how it could be more applicable to what I do. I wanted to learn more tools to apply data science practices to our company and better understand our customers.
Why did you choose DataScience@SMU?
DataScience@SMU utilizes the most relevant tools that a data scientist would need to get the job done. SMU's curriculum also combines statistics with programming better than other programs that seem to focus on one discipline over the other.
Which skills and tools that the program covers do you find most appealing? Why?
We learned to use Python, which is a very powerful language that has grown by leaps and bounds in popularity for its flexibility and ease of learning. Also, one of my professors highly stressed the importance of statistical sampling, which DataScience@SMU offers as a course.
How are you able to apply what you are learning to your current position?
The M.S. in Data Science has helped me visualize SQL table structures better to help write my queries. Learning data security will also help me in my position because it is a top priority for my company as well as many others.
What surprised you most about the online learning environment?
Using webcams so the whole class can see you facing forward! It is completely different from live classes where you look at the back of your classmates' heads while the professor gives a lecture, allowing for much more engaging class discussions.
What advice do you have for prospective students?
Having specific career goals in mind throughout the program helps keep you motivated and fully engaged. Also, being a naturally curious person will help you seek out answers to fully immerse yourself into a subject.