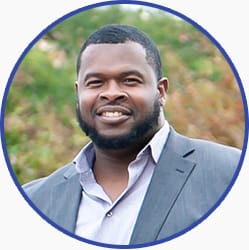 Atsu Atakpa
Location: Dallas, Texas
Occupation: System analyst at Range Resources
Education: B.S. in computer science from Paul Quinn College
Tell us a bit about yourself.
I'm an information technology professional living in Dallas, Texas, and I have spent most of my career in the oil and gas industry. I am a native of Ghana and a graduate from the only historically black college in Dallas, Paul Quinn College. There, I earned my degree in computer science and also played varsity basketball. I enjoy watching movies and playing basketball, and I love to cook.
What initially attracted you to the data science field?
There has been a buzz in the information technology world that data science is the next big thing. As an IT professional, keeping up with new technology is an essential aspect of my career. The quest to learn new technology coupled with an interest in data led to my discovery of data science and the impact this evolving field could have on my career.
Why did you decide to pursue a Master of Science in Data Science?
I started my career as a data analyst, and through the projects I worked on, I realized there were questions data could answer. I found the M.S. in Data Science at SMU to be a great program that could bridge the gap between data and unanswered questions. I saw that it would help me gain an understanding of data, address issues and make decisions that have a positive impact.
Why did you choose DataScience@SMU?
Besides the outstanding reputation of SMU, the courses offered and the duration of the program played a fundamental role in my decision to enroll in the program. Additionally, the recruiting team did a great job of staying engaged and made the process seamless. As a fun fact, I found out about the program through my social media feed.
Which skills and tools that the program covers do you find most appealing? Why?
The analytical tools covered in the statistics classes are a great skill set to have. The program also focuses on how to leverage these tools and gain insight into data that is being generated daily, such as social media data. Also, with an increasing rate of cyber threats, the network security aspect of the program piqued my interest.
How are you able to apply what you are learning to your current position?
DataScience@SMU has prepared me to support some of the initiatives my company is focused on. From concepts such as NoSQL to visualization, I am able to build dashboards to visualize data for end users to make informed decisions. I am determining how my company can leverage key data science concepts such as machine learning and cloud computing to operate efficiently. Learning these tools helps position me for a more impactful role with my company.
What surprised you most about the online learning environment?
I was skeptical at first because I thought I would have preferred an on-campus program, but I was very much surprised at how easily I adjusted to the online environment. It turned out to be more convenient for me because it fit well within my work schedule.
What advice do you have for prospective students?
Persistence and time management is key. There will be moments when you feel overwhelmed or find it hard to grasp key concepts, but those are the instances where you must persist and resist the temptation to give up. This is where time management plays a pivotal role. Even when you feel like there isn't enough time, remember that it's not about quantity, but quality. Take the little time you have and make it work for you. And above all, have fun and enjoy the program.