DataScience@SMU's Inaugural Immersion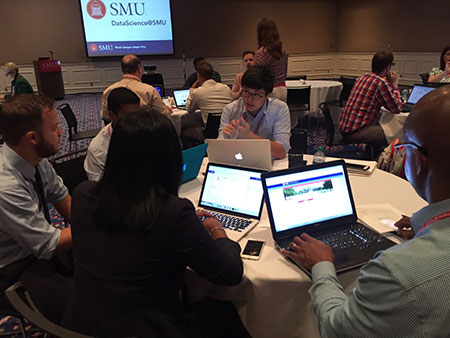 It marked the first time our students had met in person, but many felt they had known each other for years. Students arrived at the Southern Methodist University campus for a weekend of networking, career advice, case study work and the chance to finally get the SMU experience firsthand.
The weekend immersion kicked off with tours and dinner at the George W. Bush Presidential Library, followed by a keynote address by Robert Howell, a professor in the Department of Philosophy at SMU, on "Google Morals." This technical and philosophical discussion set the tone for a weekend where the ethical issues of the data science field were front and center.
NETWORKING/CAREER
Networking and career events were themes throughout the weekend. During Friday's networking lunch, representatives from local and national data science companies chatted with students about their work and what companies need when hiring new data scientists.
During the career lunch, students listened to Arun Gururajan, a senior data scientist with AT&T's Big Data Center of Excellence, present on "Data Science Essentials: Tips, Tricks and Pitfalls." In his talk, Gururajan focused on the practical aspects of doing applied data science in the industry, both perks and pitfalls. He also shared the critical areas looked for when companies interview for data scientist positions. Gururajan's talk was appreciated by students starting their journey in the field.
This was followed by a panel discussion and Q&A with four SMU graduates now working in data science careers. Drew Hardin (SMU '06 and '10), Aaron Camp (SMU '04), Kim Bolin (SMU '06) and Chris Bai (SMU '14) discussed what a data scientist career can look like.
The first thing students learned is that there is no "normal" look for a data scientist's career. While work with statistics and analysis played a part of all four panelists' jobs, their descriptions diverged from there. Hardin's position as a senior data scientist includes leading two teams. Bolin's work for Mary Kay involves being "a consultant to internal groups," while Camp provides full service clinical trial support for Biostatistic's consulting clients. Camp and Hardin agreed their roles require excellent communications skills, and Camp highlighted the importance of being willing and flexible.
The panelists also shared what they thought data scientists needed to know to thrive in the field. Bolin and Bai agreed that a key strength of thriving data scientists was the ability to use their skills to lessen business pain points.
Other topics included how specialized to get in one's data science role, with most of the panel agreeing that while playing to your strengths is a good idea, being a jack-of-all-trades can be more valuable to business; tools for visualization and analysis; and how to deal with weak or null results. The discussion ended with the panel describing their primary satisfaction with their work. While the alumni had varied backgrounds and roles, all four agreed that solving problems and finding solutions was of great personal satisfaction to them.
CASE STUDIES
The primary educational activity of the immersion was work on student case studies. An integral part of the DataScience@SMU experience, these projects continue beyond the immersion weekend. Student groups will collect data and conduct analyses on their chosen case study topic until their final paper in December 2015.
Students chose their own topics for the case studies, limited only by the requirement that the case study should focus on a dataset that raised ethical issues. The groups worked together on the case study and held cafe chats where they heard from other groups and solicited advice on their own projects.
Eight case studies were presented Sunday morning as the final event of the immersion. Topics included media coverage of controversial Kentucky clerk Kim Davis to the return on investment of a four-year degree for low-income students who must take on debt to graduate. Some highlights of the session included:
The Elephant in the Room: Republican Primary Candidates. One of a few presentations related to election data, this presentation sought to see how images of the primary candidates reflect their polling. They pulled all images and mentions of the top 11 Republican candidates from the top three cable news channels the two weeks before and two weeks after the August and September primary debates. The images (but not the text associated with the images) will be graded based on a rubric designed by the group.
First Impressions: A Study of Unconscious Biases in Society. Another common topic in the presentation, this group looks to quantify preexisting racial bias in society while also observing if they are unintentionally propagated. Using headshots, the initial study design called for a nonrandom sampling of persons known to the group to give their impressions of the people in the photographs. Several possible biases were raised, such as the lack of randomization in the responses, and the nonconsent of those photographed to be in the study.
The College Debt Trap. This group asked the following question: Is increased income from a college education enough to cancel out the cost of student debt repayment for low-income families? Instead of using cumulative lifetime earnings, the group chose to focus on yearly income after graduation and compared it to a set benchmark (the average annual salary of a high school graduate). The group found that the degree did pay off about 10 years after graduation, but group members also discussed the missing elements of their study, such as missing data, inadequate breakouts of data, the price of dropping out, etc. All of these things will be addressed over the course of the next semester.
THE SMU EXPERIENCE
The weekend was not all work, however; students broke from their case studies on Saturday to attend a tailgate on the Boulevard and football game at SMU Ford Stadium. For many, it was their first taste of SMU campus culture that they experienced with their classmates.
The game was followed by a reception and dinner at the SMU Meadows Museum, where students bonded over coursework, the university and the semester ahead. Students left energized for their case study presentations in the morning and pleased to be a part of this shared experience.
Last updated November 2015