Data Science Today: How to Become a Business Analyst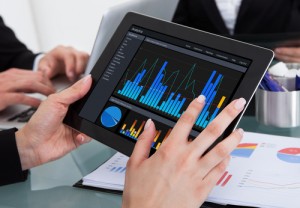 A recent study of the McKinsey Global Institute estimates that by 2018 there will be 4 million to 5 million jobs in the United States that require data analysis skills. Today's data scientists work under a number of different interesting job titles and terms, such as business analytics consulting, chief analytics officer, statistician, and business analyst. Each has its own distinct roles and responsibilities related to big data.
In this post, we'll take a closer look at one of the more popular and common job titles — a business analyst — and explore the skills and experience needed to succeed in this career.
What is a Business Analyst?
A business analyst is an "agent of change"or an individual who is tasked with introducing and managing change within an organization. They define needs and recommend solutions that deliver value and insight to stakeholders. In essence, a business analyst helps businesses — be it a for-profit company, government or nonprofit — make smarter and more efficient decisions.

What Do Business Analysts Do?
Business analysts work across all levels of an organization. They can be involved in everything from identifying opportunities and defining business strategies to implementing and evaluating new business processes and operations. Key aspects of their job include:
Processing and reviewing data from a wide variety of sources and considering it from different perspectives in order to glean new insights and ideas.
Interacting with high-level business stakeholders and subject matter experts to better understand their company objectives, challenges and needs.
Interpreting data and insights to develop concrete recommendations and action plans that a company can use to implement a solution.
Where Do Business Analysts Work?
There is significant and growing demand for data-savvy business analysts in businesses, public agencies and nonprofits. Quite often they work on IT-related projects, such as identifying ways to consolidate multiple database systems, developing a strategy for implementing a new computer networking solution, or identifying innovative ways to use technology to increase production. Business analysts also work in industries that include health care, security, technology, finance, product design and everywhere in between.
Business analysts may be hired to work in-house for corporations — such as IBM, Cisco Systems and Capital One — or consulting firms such as Accenture, Booz Allen and McKinsey & Company, as well as smaller organizations in the education, technology and nonprofit sectors.

How Much Do Business Analysts Earn?
The average salary for a business analyst can vary depending on a number of different factors including experience, industry and geography. While the average salary is $76,000, in some areas, a mid-level business analyst can earn as much as $150,000.

How Do I Become a Business Analyst?
Part mediator, moderator, matchmaker and ambassador, today's successful business analysts tend to be clear communicators, team players, astute analyzers and skilled leaders who are comfortable facilitating a broad range of business functions.
Here is a look at common responsibilities that might appear in a business analyst job listing:
Exploring and analyzing large datasets using different types of quantitative research methods and statistical techniques
Identifying, analyzing and designing processes to enhance the flow of information
Presenting and communicating their findings to diverse stakeholders in business settings
Understanding and visualizing the impact and potential that big data and analytics can have on business operations
Business analysts who want to enhance their expertise and expand their career options may elect to achieve industry-recognized certification. The International Institute of Business Analysis (IIBA®) offers business analytics certification options, which are called the Certified Business Analysis Professional™ (CBAP®) and the Certification of Competency in Business Analysis™ (CCBA®). Another option is the Certified Analytics Professional (CAP®) certification, which is offered by The Institute for Operations Research and the Management Sciences (INFORMS).

How Can I Expand My Business Analysis Skills?
A career as a business analyst is extremely multi-faceted. It requires excellent analytical abilities, strong problem-solving skills, a passion for innovation and technology, and an interest in helping others in order to be a successful business analyst. While not necessarily a requirement, a master's degree can be an effective way to gain a competitive edge.
One approach for preparing for a career in business analytics is to study data science. The study of data enables you to gain important insights and make useful predictions and strategies that can help organizations and businesses make smarter and more informed decisions on everything from operations management and product design to marketing and finance.
To learn more, visit http://datascience.smu.edu/
Last updated February 2015