Data Science Job Growth in 2015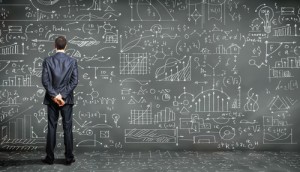 As Samsung would say, "The next big thing is here," and it's big data – consumer data, social media data, health care data, efficiency data and a variety of other data types. As a result, companies are scrambling to find ways to analyze and apply this data to increase their profits, target new markets and boost productivity levels. So, if you are looking for a job in high demand that also pays a good salary, consider pursuing a career as a data scientist.
Many companies are looking for data scientists to figure out how to process treasure troves of information. For example, according to McKinsey & Company, a retail company that leverages big data to its fullest potential could increase its operation margin by more than 60 percent. If the health care sector used data to become more efficient and operate at a higher level of quality, it could generate more than $300 billion in value yearly and reduce expenditures by 8 percent. Companies that use personal-location data could tap into an extra $600 billion in consumer purchases and services.
However, McKinsey & Company projects that by 2018 there will be a shortage of anywhere from 140,000 to 180,000 individuals who have the type of in-depth analytical skills needed to be data scientists in the United States. Management positions are even scarcer. McKinsey predicts that the country will need 1.5 million managers and analysts who can make decisions based on big data.
According to Forbes, a Robert Half Technology survey of 1,400 American chief information officers revealed that more than half of the companies collecting big data were not leveraging it because they did not have the necessary staff to access, assess and communicate knowledge gleaned from the data.
Job Demand Produces a Top-10 Job
Glassdoor lists data scientist as one of the 25 best jobs in America for 2015. Data scientist landed in ninth place on the list, so it's actually in Glassdoor's top 10 best jobs in America for 2015. Glassdoor determined placement on the list based on three key factors that were weighed equally. The jobs are then assigned a Glassdoor job score, which is based on a 5-point scale.
According to Glassdoor, here's how the role of a data scientist ranked:
Data scientist Glassdoor job score: 4.4
Data scientist job openings: 3,449
Data scientist average base salary: $104,476
Data scientist career opportunities rating: 3.8
Job Demand Fuels Salary Growth
The high demand for this position has pushed salaries through the roof. Burtch Works' 2014 analysis of data scientists' salaries places the median salary for data scientists with little experience at $80,000. Individuals with nine or more years of experience could earn up to $150,000. At the managerial level, data scientists who oversee a team of one to three people earn $140,000, and those who manage 10 or more team members earn $232,500.
Prepare for a Career in Data Science
If you're ready to pursue a red-hot career as a data scientist, consider earning an advanced degree in data science. One available option is earning a Master of Science in Data Science degree from DataScience@SMU. The program typically takes between 18 to 24 months to complete, and the curriculum merges computer science, statistics and data visualization, which incorporates 2-D and 3-D computer graphics. Students also receive hands-on training to learn how to retrieve, analyze and interpret data, and they learn how to clearly and effectively communicate their findings. Legal and ethical issues surrounding data, such as security and privacy, are also covered in the program, providing students with a well-rounded education that prepares them for an exciting career in this fast-growing field.
Last updated May 2015