SMU Data Science researchers offer new tools to fight coronavirus in the United States
DALLAS – Volunteers from Southern Methodist University (SMU)'s data science graduate program, an online master's degree that trains data science professionals to manage, analyze, mine and understand complex data, have turned their attention to the coronavirus crisis. Under the leadership of Adjunct Professor John Santerre, Ph.D., 15 data scientists are applying their skills to answer important questions that will help others combat the crisis.
The results of their work can be seen at Distilleries Fighting Covid.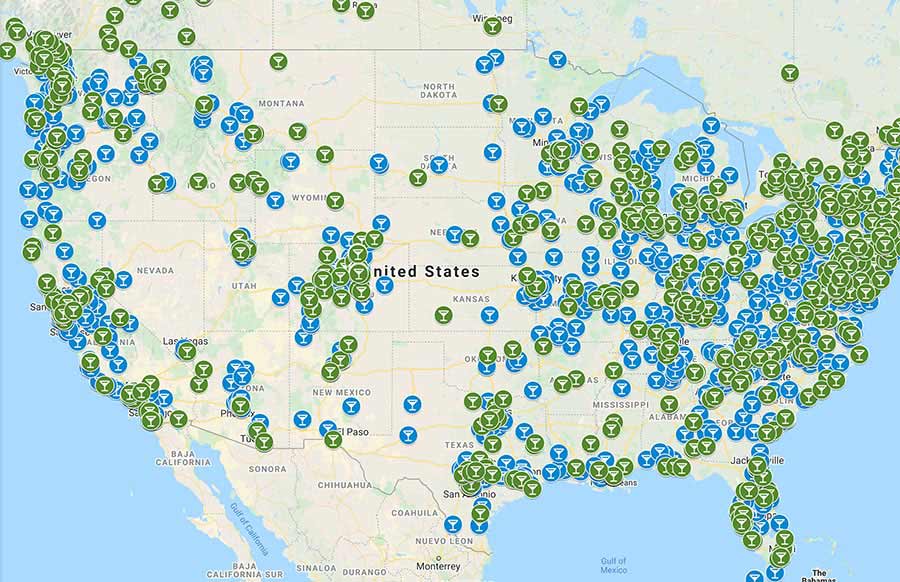 Connecting hospitals and distilleries
As supplies dwindle nationwide, stories have emerged about enterprising alcohol distilleries that are converting their distilling operations to create hand sanitizer. The SMU data scientists built a model and map that shows all of the distilleries in the United States that have registered with the American Distilling Institute. Using data from the Department of Health and Human Services, the distilleries are mapped alongside select hospital locations.
The researchers have also scoured American media to determine what distilleries are currently making hand sanitizer.
"Our primary source has been local news," said John Partee, a student in the research group and the map's creator. The team has been using Python to perform some "lightweight" natural language processing, which parses through thousands of links a day to identify distilleries that have shifted production and put them on the map.
"It's been hugely rewarding to be able to apply some of our collective knowledge that we picked up from this program to a real dataset and real problems," Partee said.
The news on COVID-19 moves fast, and so does the team. Partee said that they pivot their project every one or two days to react to changing news and new data and to address questions they come up with along the way. Their primary goal of connecting supplies to where the demand is remains.
Partee said that the team hopes that "by showing where the hand sanitizer is being created in this unorthodox way, hospitals and other groups that are running short may be able to connect with a local source."
The unique nature of an online program prepared the researchers to react to a problem that resulted in stay-at-home orders. Their team is spread out across the country, but were already accustomed to collaboration online because of their program.
"We were all ready for this," Partee said. "We've been working with remote teams for like a year. We were very much training for this kind of situation."
"I'm thankful to be working with such a talented and passionate group of volunteers to fight Covid-19. It's remarkable what a team of nerds, thinking outside the box to work with private industry, can do when we're forced to stay inside."
With the help of the American Distilling Institute, the researchers plan to gather more information from all members of the ADI, which will give a much more accurate picture of what distilleries are making hand sanitizer, and where they are located.
About DataScience@SMU
DataScience@SMU is an online Master of Science in Data Science program designed for current and aspiring data science professionals looking to gain the advanced skills needed to manage, analyze, mine and understand complex data to make strategic decisions in their organizations. Through a combination of interactive coursework, collaborative group activities and online face-to-face classes, students gain the technical, analytical and communication skills needed to make meaningful data-driven decisions across various industries.
Request information about DataScience@SMU
Last updated March 2020