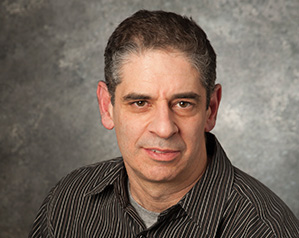 Ira Greenberg
Full Time SMU Professor and Course Lead for Visualization of Information
Department of Computer Science and Engineering, and Director, Center of Creative Computation
Teaches: Visualization of Information, Visualization of Information and Creative Coding II
Dr. Ira Greenberg is a full-time faculty member at SMU, with a joint appointment in the Meadows School of the Arts and the Lyle School of Engineering. He is also the director of the Center of Creative Computation and chair of the Division of Art. He holds a BFA from Cornell University and an MFA from the University of Pennsylvania.
With an eclectic background combining studio arts and computer science, Dr. Greenberg has been a painter, 2-D and 3-D animator, print designer, web and interactive designer/developer, programmer, art director, creative director, managing director, art and computer science professor, and author. He wrote the first major language reference on the Processing programming language, Processing: Creative Coding and Computational Art (Berkeley, CA: friends of ED, 2007).
He has steadily exhibited his work, consulted within industry, and lectured widely throughout his career. He was affiliated with the Flywheel Gallery in Piermont, New York, and the Bowery Gallery in New York City. He was a managing director and creative director for H2O Associates in New York's Silicon Alley, where he helped build a new media division during the golden days of the dot-com boom and then bust, barely parachuting back to safety in the ivory tower. Since then, he has been inciting students to create inspirational new media art, lecturing, and holding residencies at numerous institutions, including Trinity College (Dublin, Ireland); University of Edinburgh (UK); University of Iowa; University of Northern Iowa; Seton Hall University; Monmouth University; University of California, Santa Barbara; Kutztown University; Moravian College; Northampton Community College's Digital Art Institute; Lafayette College; Lehigh University; the Art Institute of Seattle; Studio Art Centers International (Florence, Italy); and the City and Guilds of London Art School (UK).
Previously, he was associate professor at Miami University (Ohio), where he held a joint appointment within the School of Fine Arts and Interactive Media Studies program and was an affiliate member of the Department of Computer Science and Systems Analysis.
Dr. Greenberg lives in Dallas with his wife, Robin; his son, Ian; his daughter, Sophie; zenned-out dogs Kenzie and Lucy; enforcer cat Moonshadow; and confused guinea pigs Brownie and Marshmellow. When not sitting aimlessly in front of his laptop, he can be found getting checked against the boards at an ice rink in North Texas.