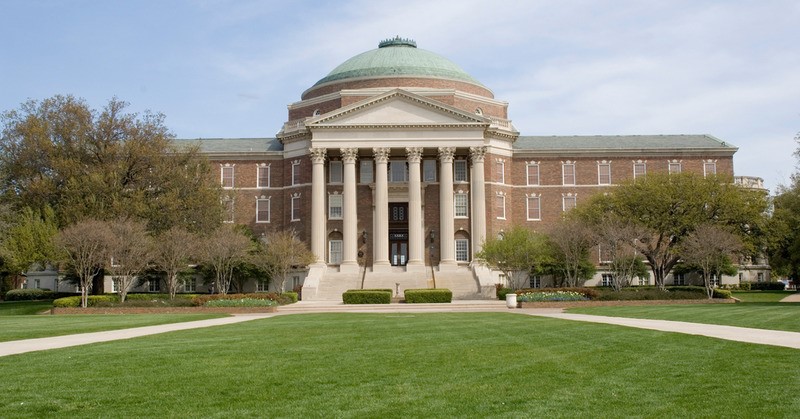 Experience SMU
Wednesday, May 20
8:00 p.m. CDT
During the session, you can experience the platform used to deliver our online classes and learn about:
The resources available to all DataScience@SMU students, including student support and advising, career services, a DataScience@SMU Immersion and WeWork access.
The online learning platform, which features live, online classes and dynamic coursework.
Tips and advice for accessing the easy-to-use online platform to have a successful and enjoyable classroom learning experience.
Complete the form to register.
By attending this webinar you may be eligible to receive an application fee waiver. Please contact your admissions counselor to receive the waiver.

**You must contact your admissions counselor to receive the waiver, we regrettably cannot apply waivers after applications have been submitted**

By registering for this event, you are agreeing to receive information about DataScience@SMU in the future.

This webinar may be recorded. By participating in the webinar, your name, questions, and/or comments may be visible to other webinar viewers.
{"admissionsEmail": "admissions@datascience.smu.edu", "degreeOffering": "smu-mds", "fields": [{"hidden": false, "label": "Why are you interested in earning your master\u0027s in data science?", "mountPoint": 1, "name": "why_interested_in_master_of_data_science", "required": true, "type": 3, "value": {"defaultOption": "", "options": [{"label": "Advance my career", "value": "Advance my career"}, {"label": "Switch to a new career", "value": "Switch to a new career"}, {"label": "Develop my professional skills", "value": "Develop my professional skills"}]}}, {"hidden": true, "label": "", "name": "no_klondike_gdpr_only_consent", "required": true, "type": 9, "value": {"gdprOnly": "false"}}, {"hidden": false, "mountPoint": 2, "name": "", "type": 7, "value": {"text": "Your personal data will be used as described in our [--link: https://datascience.smu.edu/legal/privacy-policy/]privacy policy[link--]. You may opt out of receiving communications at any time."}}], "grouping": "smu-mds", "id": 103, "inferredFields": {"country": "country_name"}, "published": "2020-03-24T14:33:03.558Z", "screens": [{"allFields": [0, 1], "conditional": {}, "out": {"0": ["$next", [{"data": "$valid"}]]}}], "version": "1.0.1"} {"admissionsEmail": "admissions@datascience.smu.edu", "degreeOffering": "smu-mds", "fields": [{"hidden": false, "label": "Why are you interested in earning your master\u0027s in data science?", "mountPoint": 1, "name": "why_interested_in_master_of_data_science", "required": true, "type": 3, "value": {"defaultOption": "", "options": [{"label": "Advance my career", "value": "Advance my career"}, {"label": "Switch to a new career", "value": "Switch to a new career"}, {"label": "Develop my professional skills", "value": "Develop my professional skills"}]}}, {"hidden": false, "label": "What is your educational background?", "mountPoint": 1, "name": "educational_background", "required": true, "type": 3, "value": {"defaultOption": "", "options": [{"label": "Business/Economics", "value": "Business/Economics"}, {"label": "Computer Science", "value": "Computer Science"}, {"label": "Education/Teaching", "value": "Education/Teaching"}, {"label": "English/Writing", "value": "English/Writing"}, {"label": "Engineering", "value": "Engineering"}, {"label": "History/Government", "value": "History/Government"}, {"label": "Math/Statistics", "value": "Math/Statistics"}, {"label": "Physical Science", "value": "Physical Science"}, {"label": "Other", "value": "Other"}]}}, {"hidden": false, "label": "What is your highest level of education completed?", "mountPoint": 1, "name": "level_of_education", "required": true, "type": 3, "value": {"defaultOption": "", "options": [{"label": "High School", "value": "High School"}, {"label": "Associate\u0027s", "value": "Associates"}, {"label": "Bachelor\u0027s in progress", "value": "Bachelors In Progress"}, {"label": "Bachelor\u0027s", "value": "Bachelors"}, {"label": "Master\u0027s in progress", "value": "Masters In Progress"}, {"label": "Master\u0027s", "value": "Masters"}, {"label": "Doctorate", "value": "Doctorate"}]}}, {"hidden": false, "label": "What was your undergraduate GPA?", "mountPoint": 1, "name": "stated_gpa_range", "required": true, "type": 3, "value": {"defaultOption": "", "options": [{"label": "4.00 and above", "value": "4.00 And Above"}, {"label": "3.99 - 3.50", "value": "3.99-3.50"}, {"label": "3.49 - 3.00", "value": "3.49-3.00"}, {"label": "2.99 - 2.50", "value": "2.99-2.50"}, {"label": "2.49 and below", "value": "2.49 And Below"}]}}, {"hidden": false, "label": "First Name", "mountPoint": 1, "name": "first_name", "required": true, "type": 0, "value": {"text": ""}}, {"hidden": false, "label": "Last Name", "mountPoint": 1, "name": "last_name", "required": true, "type": 0, "value": {"text": ""}}, {"hidden": true, "label": "Country of Residence", "mountPoint": 1, "name": "country", "required": false, "type": 6, "value": {}}, {"hidden": false, "label": "Email", "mountPoint": 1, "name": "email", "required": true, "type": 0, "value": {"text": ""}}, {"hidden": false, "label": "State", "mountPoint": 1, "name": "state", "required": true, "type": 5, "value": {}}, {"conditionallyRendered": true, "hidden": false, "label": "Phone", "mountPoint": 1, "name": "phone", "required": false, "type": 0, "value": {"text": ""}}, {"hidden": false, "label": "Have you taken the GRE within the last five years?", "mountPoint": 1, "name": "test_taken", "required": true, "type": 3, "value": {"defaultOption": "", "options": [{"label": "Yes", "value": "Yes"}, {"label": "No", "value": "No"}, {"label": "Registered but not taken", "value": "Registered but not taken"}]}}, {"hidden": false, "label": "How many years of programming experience do you have?", "mountPoint": 1, "name": "years_of_programming_experience", "required": true, "type": 3, "value": {"defaultOption": "", "options": [{"label": "0", "value": "0"}, {"label": "1", "value": "1"}, {"label": "2", "value": "2"}, {"label": "3", "value": "3"}, {"label": "4", "value": "4"}, {"label": "5", "value": "5"}, {"label": "6", "value": "6"}, {"label": "7", "value": "7"}, {"label": "8", "value": "8"}, {"label": "9", "value": "9"}, {"label": "10+", "value": "10+"}]}}, {"hidden": false, "label": "Zip / Postal Code", "mountPoint": 1, "name": "zip_code", "required": false, "type": 0, "value": {"text": ""}}, {"hidden": true, "label": "Degree Interest", "mountPoint": 1, "name": "degree", "required": false, "type": 3, "value": {"defaultOption": "MDS", "options": [{"label": "MDS", "value": "MDS"}]}}, {"conditionallyRendered": true, "hidden": false, "label": "US Marketing Consent \u00f0\u009f\u0087\u00ba\u00f0\u009f\u0087\u00b8", "mountPoint": 1, "name": "lead_share_opt_in", "required": true, "type": 11, "value": {"checkboxText": "Please contact me about these educational programs.", "defaultChecked": true, "defaultRadio": "none", "disclaimer": "DataScience@SMU\u0027s technology partner, 2U, Inc., and its family of companies, work with multiple universities to offer educational programs in data science and other fields. ", "format": "checkbox", "optInValue": "SMU-MDS Marketing", "smsHiddenConsent": false}}, {"conditionallyRendered": true, "hidden": false, "label": "GDPR Marketing Consent \u00f0\u009f\u0087\u00aa\u00f0\u009f\u0087\u00ba", "mountPoint": 1, "name": "lead_share_opt_in", "required": true, "type": 8, "value": {"disclaimer": "", "leadShareOptIn": {"email": "Yes, I would like to learn more about this additional online graduate data science opportunity.", "leadShareValue": "SMU-MDS Marketing", "phone": "", "sms": "", "text": "DataScience@SMU\u0027s technology partner, 2U, Inc., and its family of companies, work with multiple universities to offer educational programs in data science and other fields. "}, "retailOptIn": {"email": "Email", "phone": "Phone", "sms": "", "text": "Yes, I want to receive additional information about DataScience@SMU. Please contact me via:"}}}, {"hidden": true, "label": "", "name": "no_klondike_gdpr_only_consent", "required": true, "type": 9, "value": {"gdprOnly": "false"}}, {"hidden": false, "mountPoint": 2, "name": "", "type": 7, "value": {"text": "Your personal data will be used as described in our [--link: https://datascience.smu.edu/legal/privacy-policy/]privacy policy[link--]. You may opt out of receiving communications at any time."}}], "grouping": "smu-mds", "id": 103, "inferredFields": {"country": "country_name"}, "published": "2020-03-24T14:33:03.558Z", "screens": [{"allFields": [0, 16], "conditional": {}, "out": {"1": ["$next", [{"data": "$valid"}]]}}, {"allFields": [2, 3, 1, 10, 11], "conditional": {}, "out": {"2": ["$next", [{"data": "$valid"}]]}}, {"allFields": [4, 5, 7], "conditional": {}, "out": {"3": ["$next", [{"data": "$valid"}]]}}, {"allFields": [8, 12, 6, 9, 13, 14, 15, 17], "conditional": {"14": [1, "", [{"data": "state.no_klondike_gdpr_only_consent"}, {"data": "true"}, {"op": 1}, {"data": "state.no_klondike_carmen_sandiego_region"}, {"data": "eu"}, {"op": 1}, {"op": 7}]], "15": [1, "", [{"data": "state.no_klondike_gdpr_only_consent"}, {"data": "true"}, {"op": 0}, {"data": "state.no_klondike_carmen_sandiego_region"}, {"data": "eu"}, {"op": 0}, {"op": 8}]], "9": [3, "", [{"data": "state.no_klondike_carmen_sandiego_region"}, {"data": "eu"}, {"op": 0}]]}, "out": {"-1": ["$next", [{"data": "$valid"}]]}}], "version": "1.0.1"}